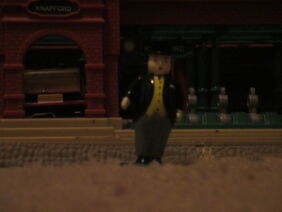 The Fat Controller is seen as a firm but fair character. Despite being strict, he shows a fatherly side to the engines. He is quite a strong character and will remind the engines that he is in charge when they start to rebel against his authority. He does not stand bullying and, even though he is usually serious, he does enjoy a good laugh.
Appearances
Edit
Happy Birthday Kyle (mentioned)
The Models Used For Sir Topham Hatt are the Bachmann one and the ERTL one.